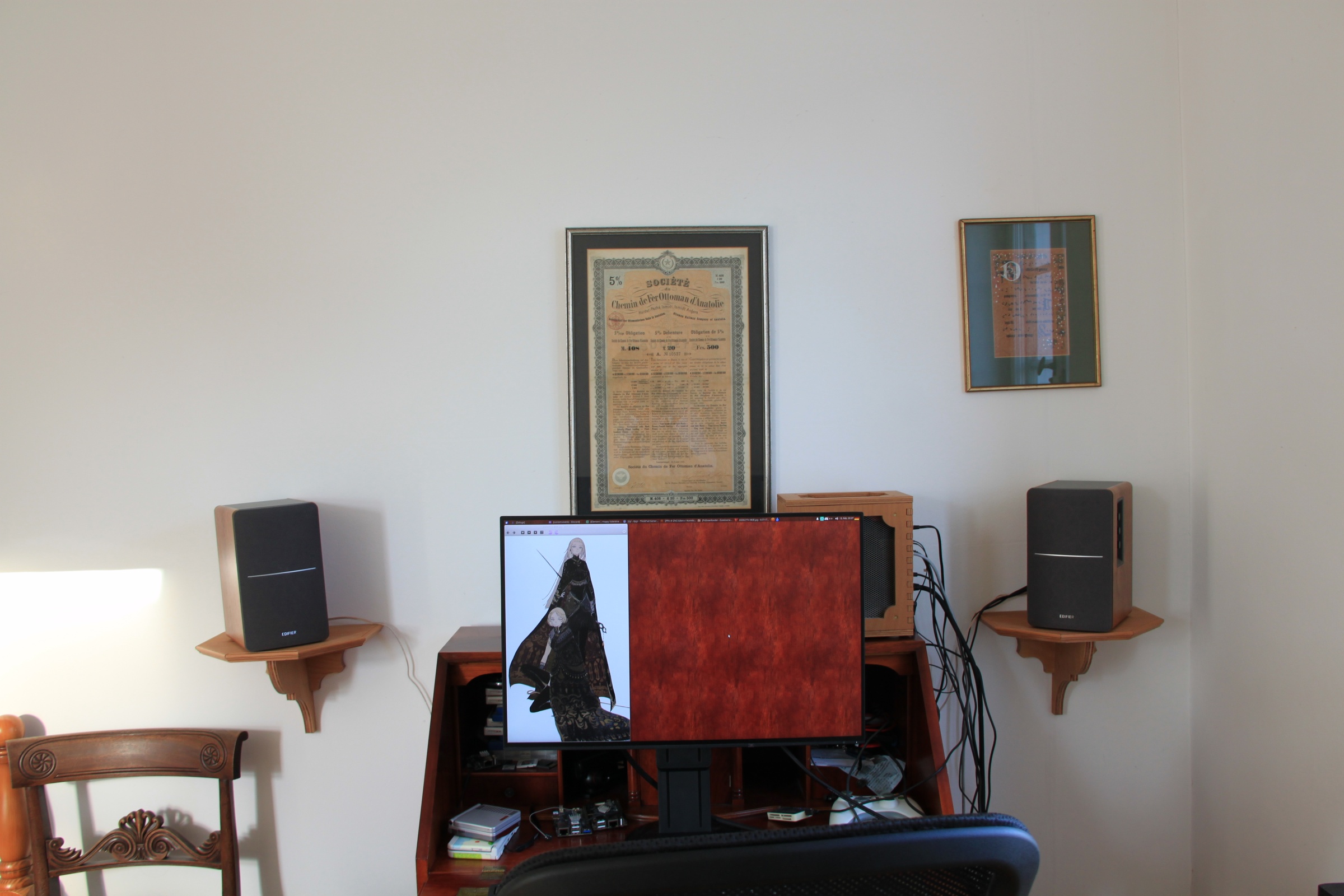 After my old, small speakers broke, I bought the Edifier Studio R1280T as a replacement, but their size was a problem. The only space for them on my secretary was at the top, right behind my monitor—this made for very poor acoustics, and looked crowded. To more properly position them, I had to add corbels or wall consoles to my room. There were a couple of nice antiques in regional classifieds, but at the encouragement of a friend, I decided to make my own.
This having been only my second woodworking project, a lot of mistakes were made, and lessons were learned in the process. Some of them are recorded here so that I may remember them, and so that any errant reader may either learn from or be amused by my rookie mistakes.
Consider what tools you need in advance, so progress doesn't need to stall every time you realise you're missing something, such as a mitre saw, band clamps, or more clamps, and need to head out to the hardware store again a day later.
Don't expect to do clean, straight cuts much less at a carefully planned angle with a jigsaw, or you will end up with odd-angled, uneven edges you'll have to fix later. In hindsight, this could have been done better had I thought to use some kind of guide rail.
Manual miter saws are not suited for sawing through 15 mm thick plywood, although it produced the 45°-angled edges I needed, so spending something like 30–50 minutes on each cut was worth it, however inefficient.
Do a dry exercise with your clamps before you start gluing. It worked out in the end, but that was unnecessarily stressful.
Attach your work to the wall by an adjustable means so you don't bolt it to the wall at a slight angle that sours your sweet triumph when everything else has worked out somehow.
In the end, it was worth the trouble. The sound is much better now.